May 27th, 2015
My last job rocketed past frustrating into pointless and stupid. 4 supervisors in less than a year, none interested in anything but the hamster wheel of broken releases vs. automating deeper quality. The last one asked\told me to do what was clearly not on my resume, and I explained as delicately as possible I had no interest in learning old technology to support a flawed strategy. *sigh* It was his department and his vision, which i respect, so he should respect my checking out and making myself his very expensive paperweight. When I got the severance package, my officemate cursed me for outplaying him into 6 weeks of blood money. Is there a morale problem here?
For a month I showed up about an hour a day, on my bike, around trips to the gym, and a million projects around the house. I lost 5 lbs in April, plateaued in early May as I built back my chest and core, then dropped 5 more pounds almost overnight. I cooked, exercised, saw the kids off in the morning and met the bus in the afternoon. Beckie and Dia ran everyday and ate fabulous food every night, jumping headlong into stay-at-home-dad with me.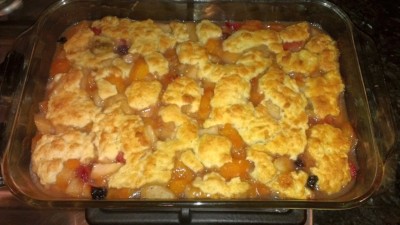 My first cobbler was delish. I made mashed potatoes, crock-pot porkchops, alfredo with basil pesto from our plant, eggplant parmesan (twice), lentils with coconut milk, omelets and salsas. Alana is eating vegetables, scooping avocado from its skin, and putting dishes in the sink. Genevieve is responsibly using a great big knife.
The actual 'unemployment' left me just 3 weeks for my bucket-list of child-free adventures, in May, in the desert. And I couldn't have been more stoked. I was rewarded with the most temperate, overcast May I can remember. Some say La Nina. I guess. I would have ridden in 110.
home-Camelback-home. 30 miles on the CX bike, a mid-week hike I haven't done in over 10 years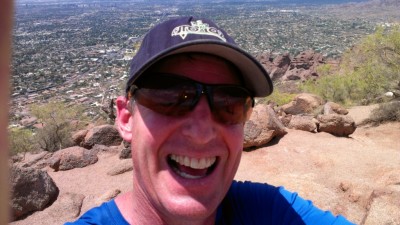 National with Seron. Weather was overcast, almost chilly, so we went to Telegraph Pass and back and got sprinkled at 1pm, with just enough time to hit Los Taquitos.
A few pixels of Seron nailing the Waterfall, first time for him in over 2 years. I hope that is a good trade for all the new ego-pics he gave me.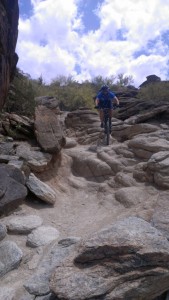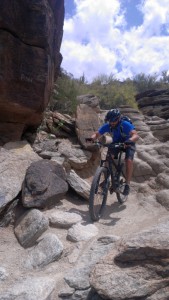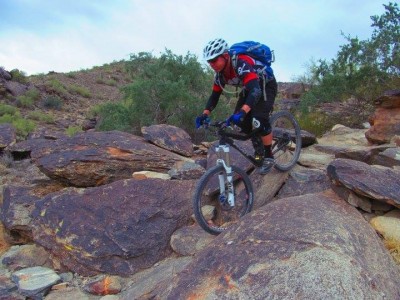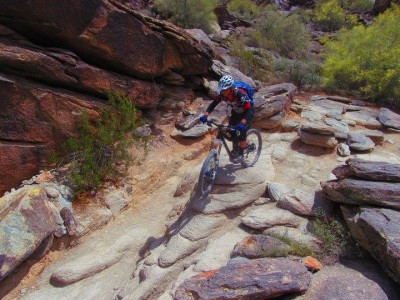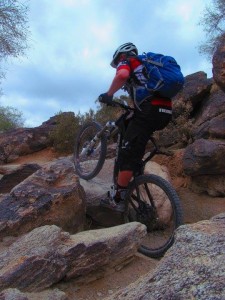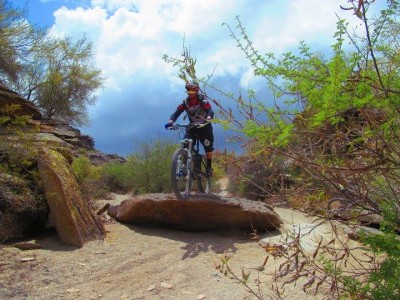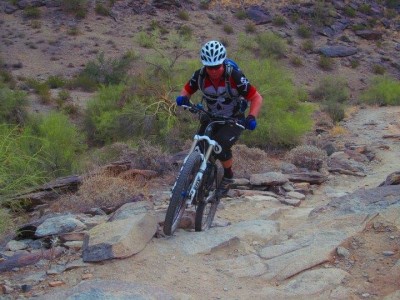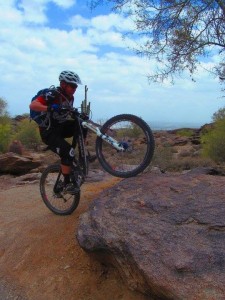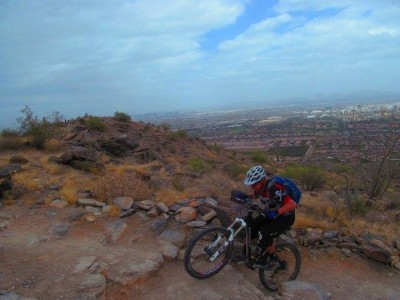 I rode Pass Mountain for the first time in 2 or 3 years. I rode it 50x the 10 years we were in Mesa, and didn't recognize anything on the front side – its been flattened and smoothed and dozed 4 ft wide. The pitches at the mountain's feet we called The Canyons are now easy rollers. Places I'd wrecked that haunted me for years til finally I could ride that trail over and over without blood flashbacked if\when i thought i was passing them. Melancholy, mixed with an invigorating fast pace. Climbing the north face i wondered if that giant boulder that no one has ever gotten had been taken out. It wasn't, and I was almost disappointed, since I gave up trying it 10 years ago. Might as well have kicked Pass Mountain while it was down.
The awesome north climb is still hard and the back side is still great fun.  If Pass Mountain was a woman, she would have a great butt and legs, and a nice tight chest, that forever reminds me of my wife losing her boobs after breast-feeding. My relationship with Pass Mtn has always been a dysfunctional mess of inadequacy, rejection and lust.
I met 2 equestrians at the summit, who were scoping out the descent, concerned about me coming up behind them. I asked them to please wait 2 min while i got on my kneepads so I could jump in front, with no good place for half a mile for us to stack up.
Them: "You must not be afraid of heights".
Me: "Oh I am, but I contain it."
That is how you multi-use a trail! They were talking to their horses telling them to be cool when I took off. What awesome ballsy ladies, the kinda horse people i like. Saw them coming down the Slab when i was at the bottom of the rubble field.
Later that week I hit Gold Canyon with John, TrailDoc and some other friends. Thanks for the pics!