v4.0 of the blog! Leanness as an inspiration, for my lack there-of! Work gave me a performance-based covered parking spot, which almost makes up for my spare tire.
It started here, 9 years ago…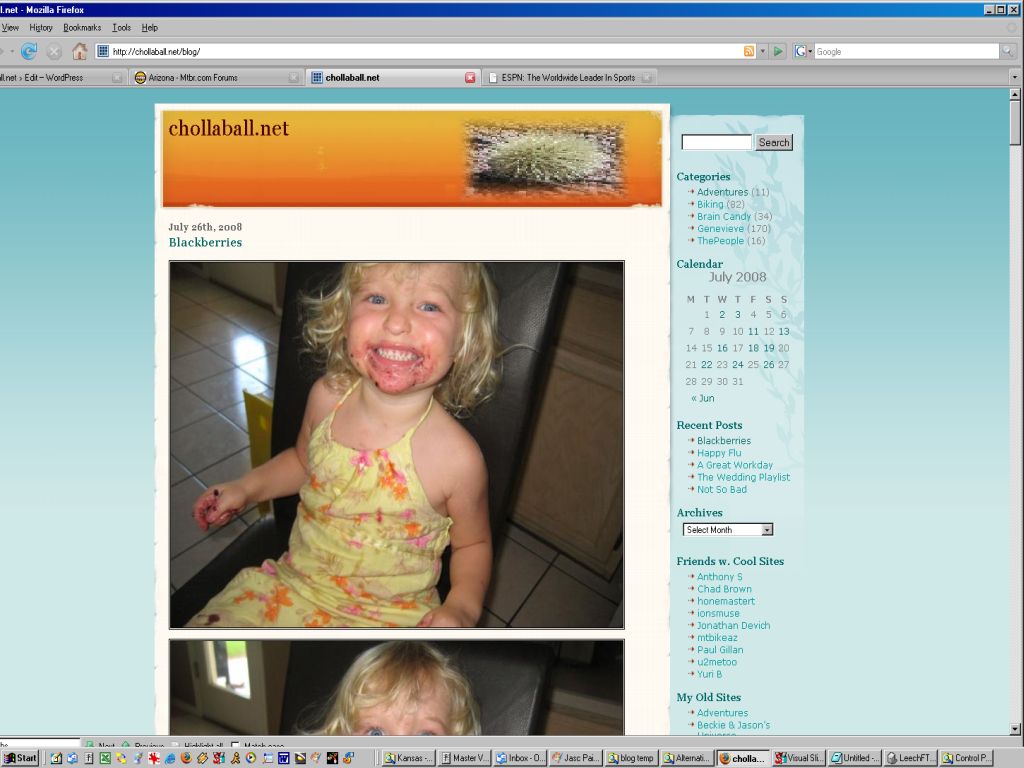 18 mos later i changed the theme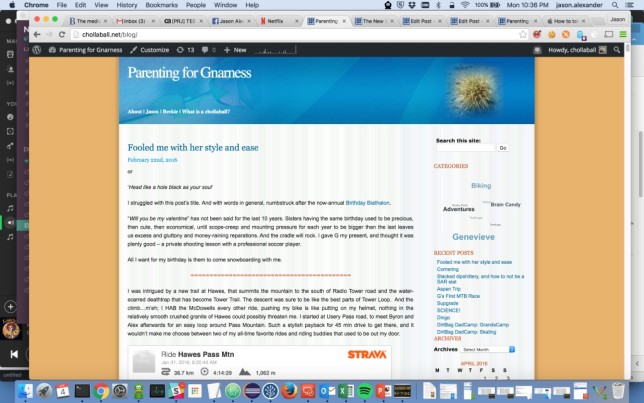 7 years of dated cartoonishness, frozen by lack of vision and a mute muse. v3 last year I changed the name, finally, from boring-ass default chollaball.net. My evolutionary pace is overrun by the Catholic Church and the Republican party. Though G has not changed much either, still not wiping food off her face.
From a safezone-pov, this is a transformational post! Priorities change.
G impels me, 2 hrs at Brown's is a legitimate ride!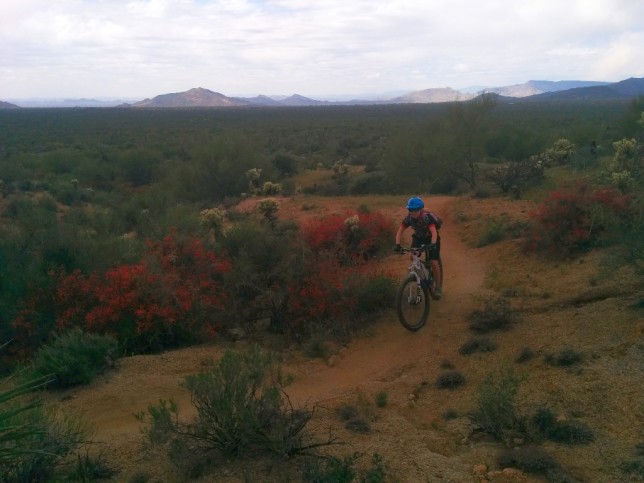 life-lesson from Dirtbag Dad: if you're not hiking the view is probably not worth it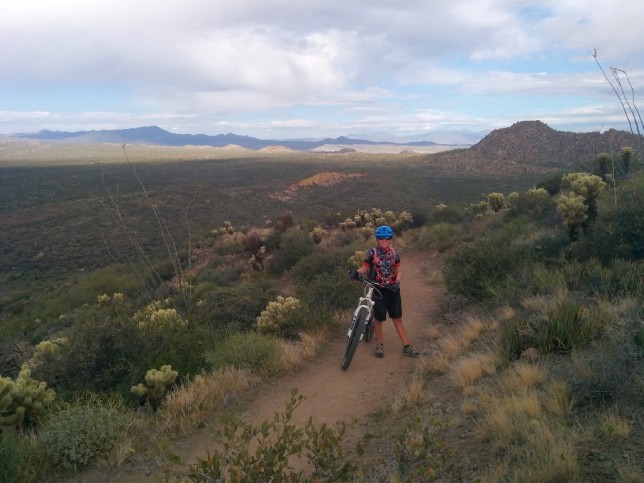 An evening learning to drop curbs, 2 afternoons hitting a spot, Desert Trails, then she had it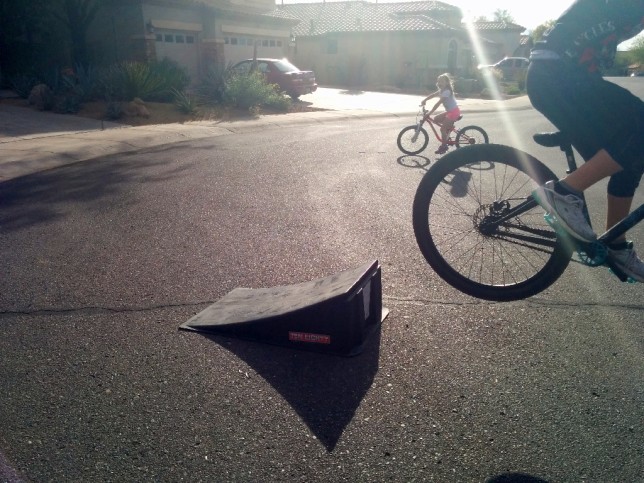 June 8 my knee gets replaced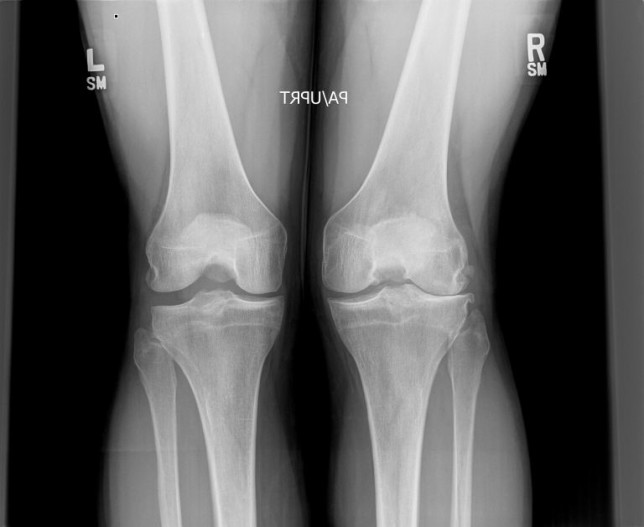 My best buds Byron and Alex joined me for a Sedona celebration, the last one for quite some time. It took massive coordination for 3 grown-ass men with jobs and families to ride 20 miles through Carroll Canyon and the west siiiiide.  These things don't just happen, it needs to be preeminent in your mind, you need to commit. Sketch, Skywalker, Last Frontier, Scorpion and Pyramid were awesome.
i didn't take many pics mostly i was off the back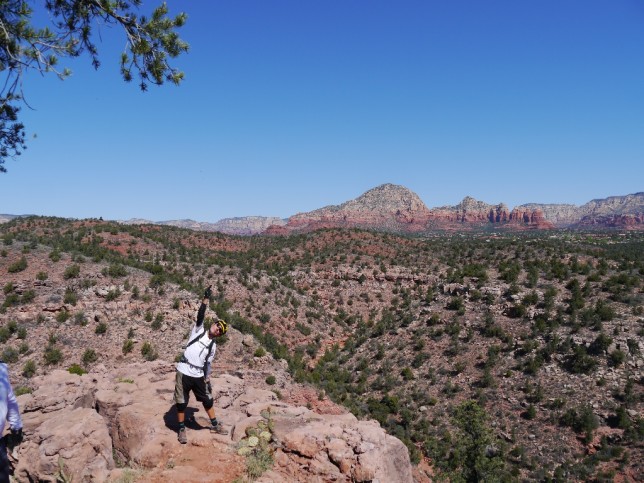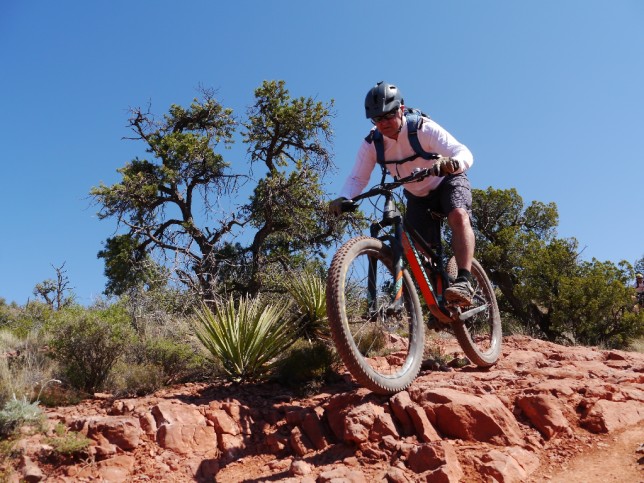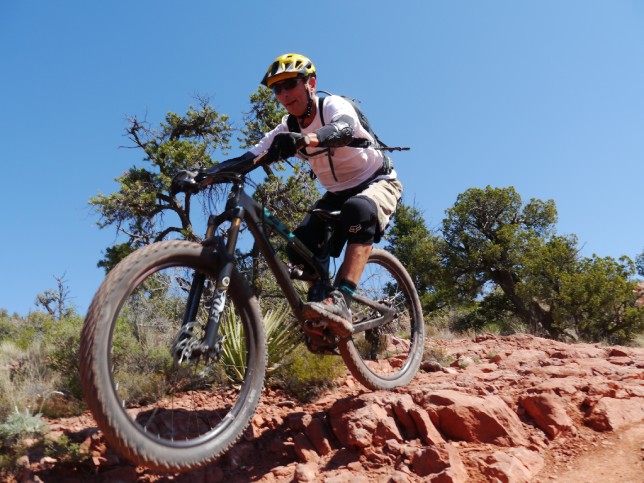 It was almost all new to me, but almost all XC. Craving the steeps on the H's I wrongly brought the Firebird. The only move i needed the bigger bike was mile 19 on Pyramid (nee, Special Ed to Witchdoctor before the Forest Service renamed them). I nailed the turn and drop, but was so tired hauling that sled around all day my arms and toes collapsed propping my momentous ass back over the saddle shooting the exit, and i went OTB. My ribs hurt every time i sneezed for the next 2 weeks.
Sunday happinezz to aspectate asexy new kitz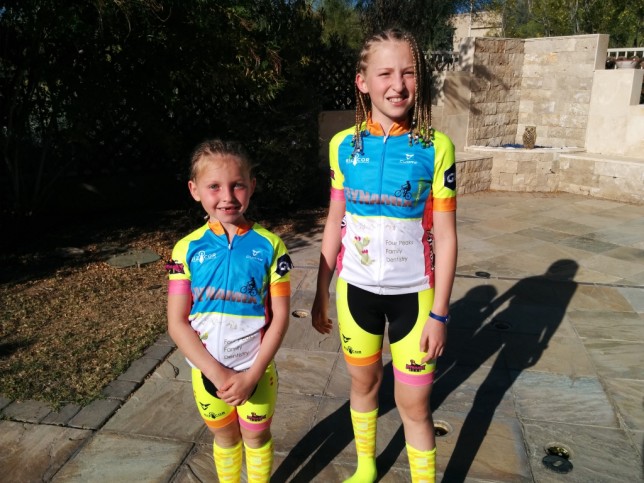 White Tanks Regional Park: G off the line, and Alana charging up the back!!!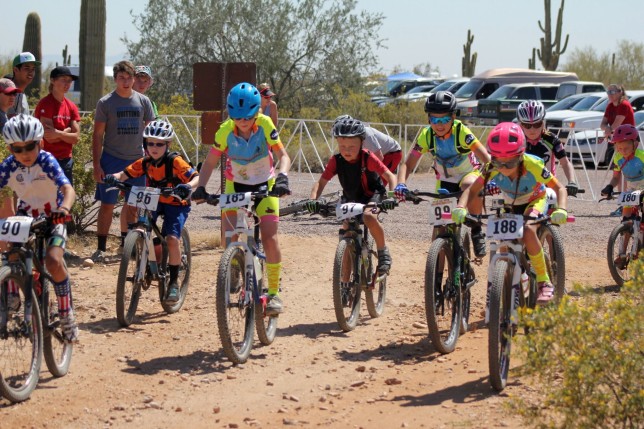 That's right I said Alana! The race organizers let me trail her for a 2.5 mile lap, which…she finished! We promised her a trip to the movies as reward. They saw a cartoon i avoided for $9.80 a ticket, we saw The Revenant. Beckie hated it, but it fit me: keep breathing.
2 laps down, 1 to go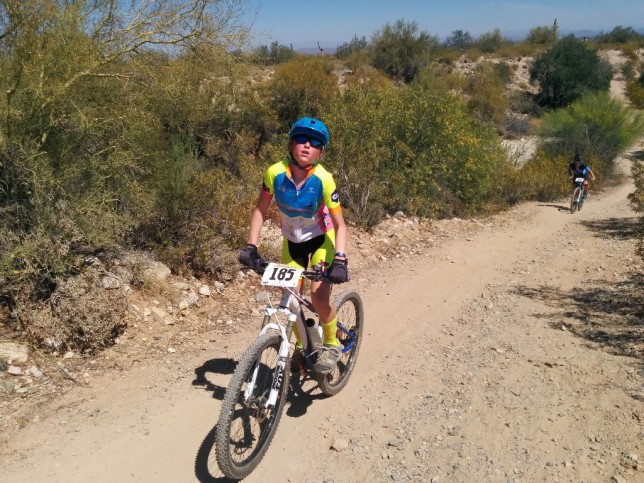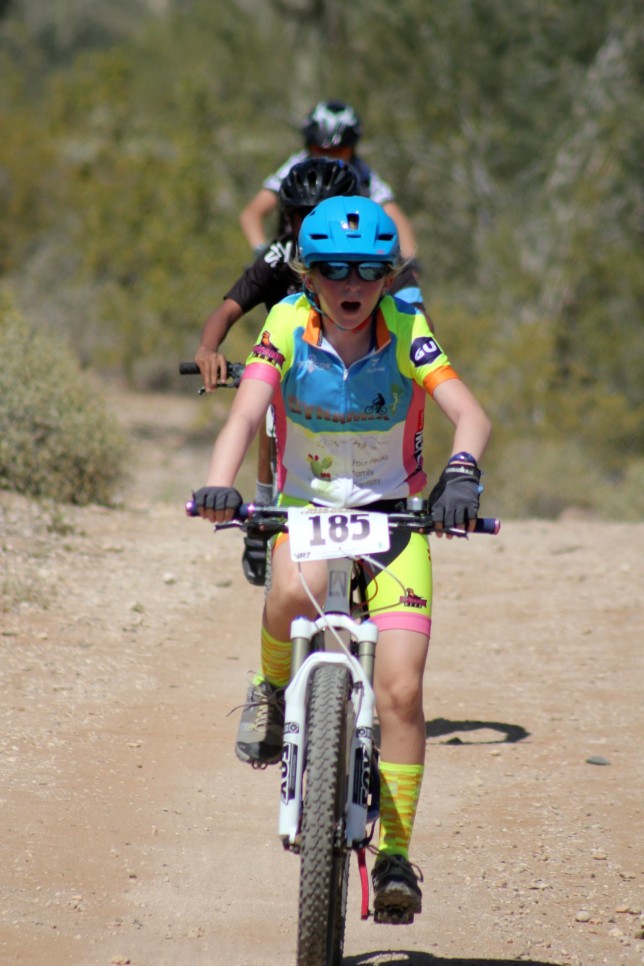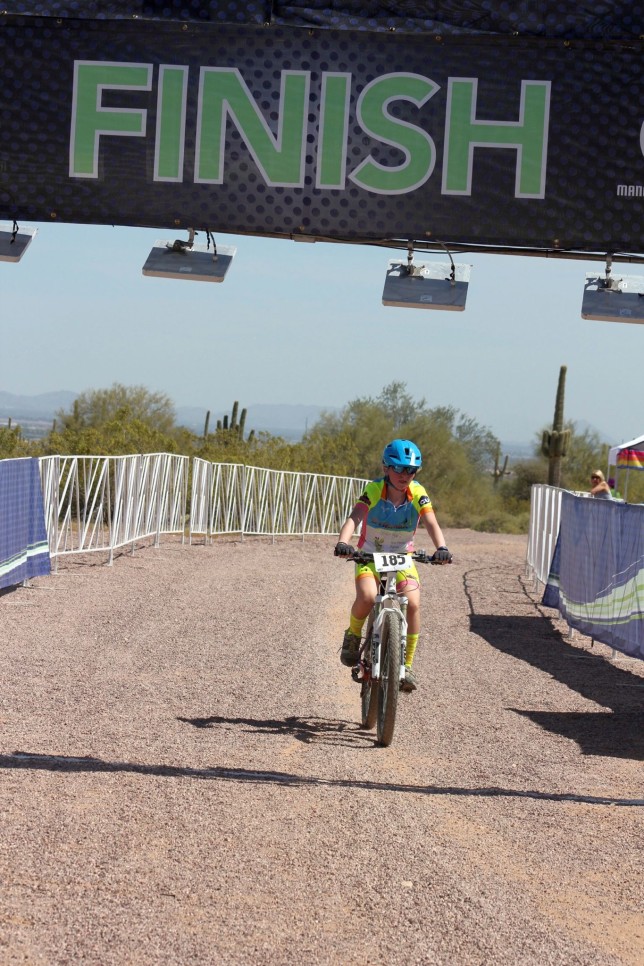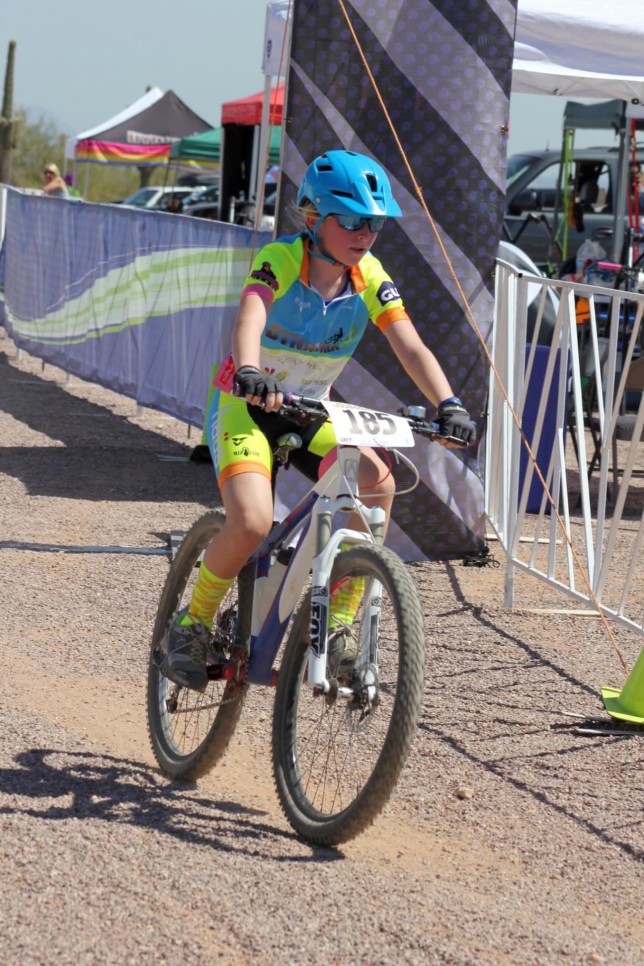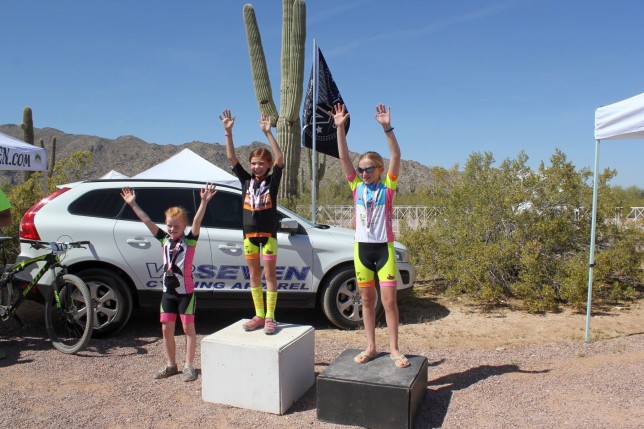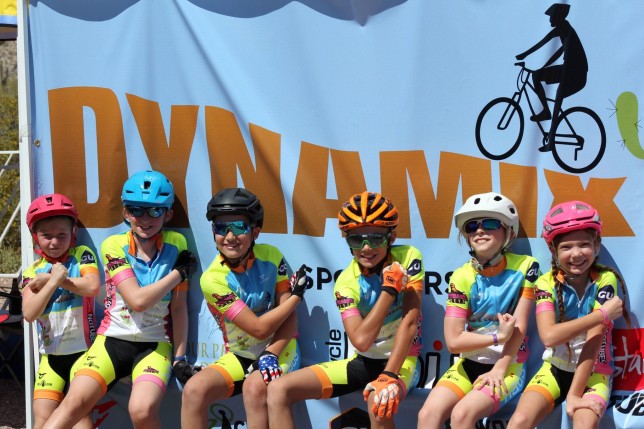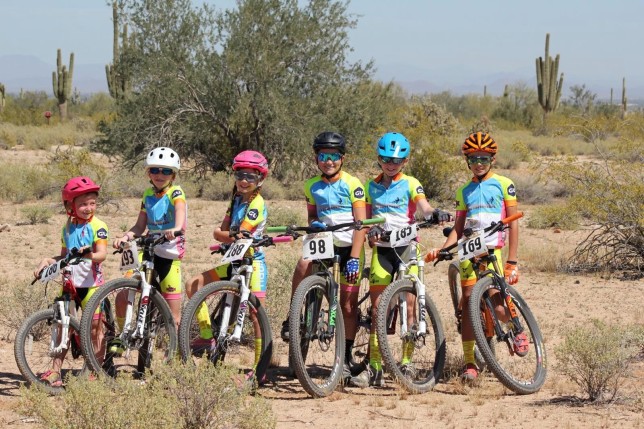 5 short days later was the Beti Bike Bash!!! For $85 and 2 trips around the mountains, G got 6 hrs of instruction led by an Olympic team member, a sweet new jersey, race registration, and 2 days entrance to McDowell Mountain Park. Alana's gymnastics studio wants $250 just for the chance to eat lunch with a former Olympian and a bunch of control freaks. Which would you make a priority?
We set-up next to the Yeti demo tent and rode for 2 days while the kids camped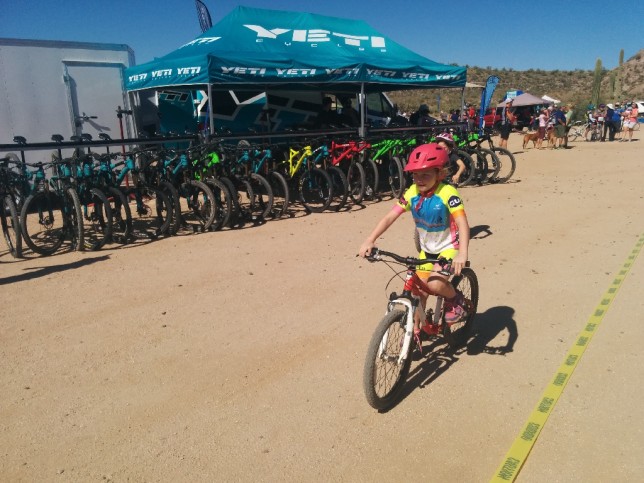 Saturday I took out a 4.5 carbon 29er. I liked the 27.5 5c better the next day, half inch more travel and half an inch more slack. Geeking out on featherlight frames, internally-routed dropper posts, and 1×11 drive trains. Its easier to find a quiver-killer when you dial back from dropping gnar. Our post-surgery bike will be a long-travel carbon 29er with a 69 degree head-angle, that Beckie and I both can ride.
Carbone test ridey – ran into G, Avery and Emma leading the campers up Escondido Trail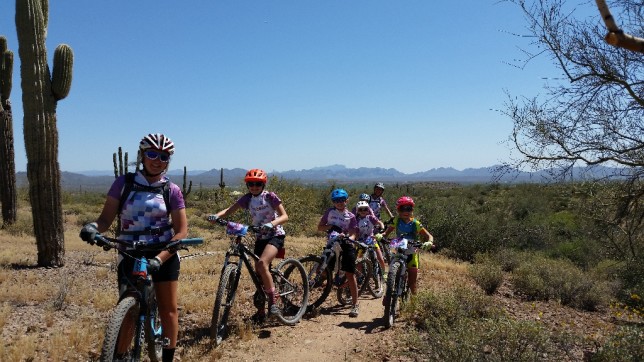 BOOM! Took me 29 more years to do this. She was totally feeling it…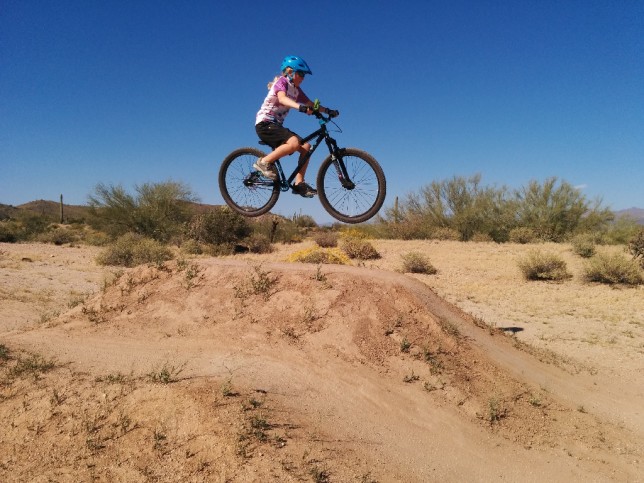 2 tries later G overshot the landing and lawn-darted into the ground. She learned a lesson, and I'm so grateful didn't break anything.
Dia, unimpressed and not to be outdone, ate a dead thing's spine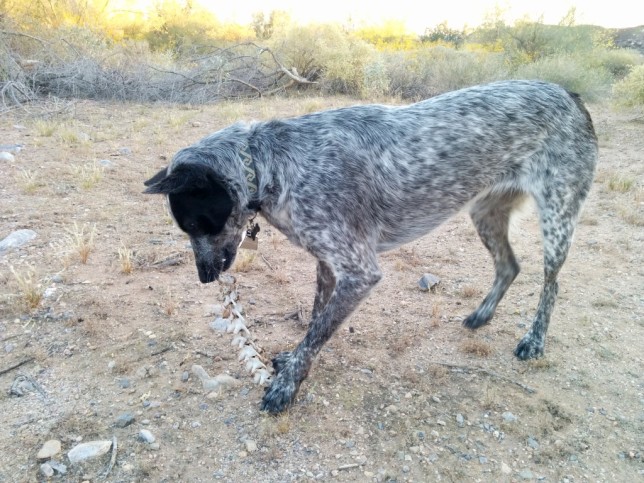 Sunday Mrs. Cball committed to a plan and executed it:  fulfill all quartermaster duties, then over Bell Pass while I shepherded spawn to the race.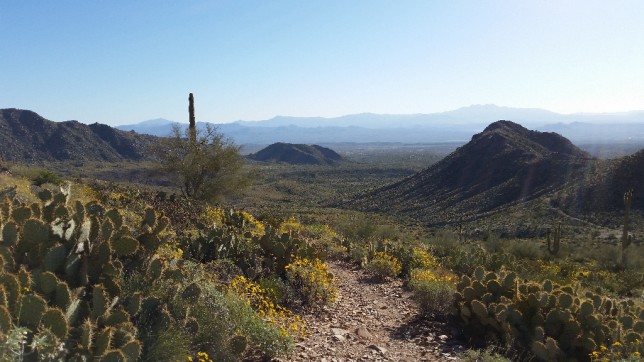 Emma, Avery and G racing 'under-18'. So proud of these girls!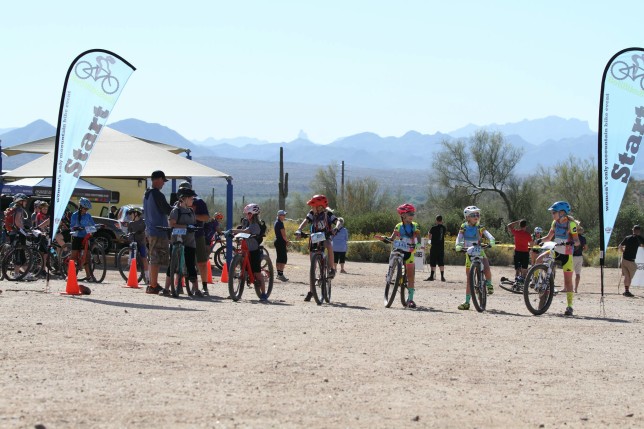 Rob insisted the loud unis would make it easier to pick them out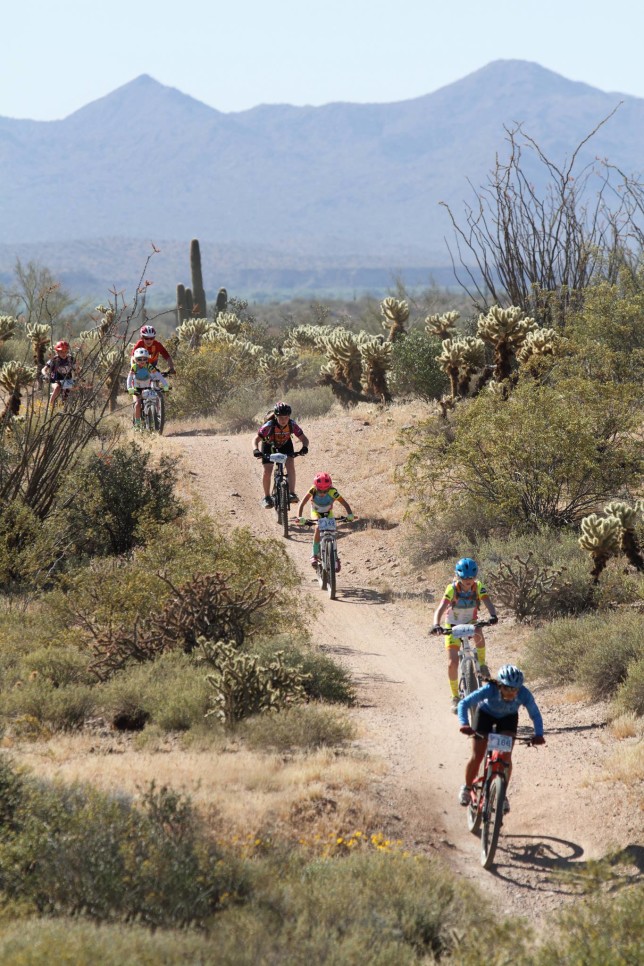 Thanks Scott W and Beti Bike Bash for some of the pics!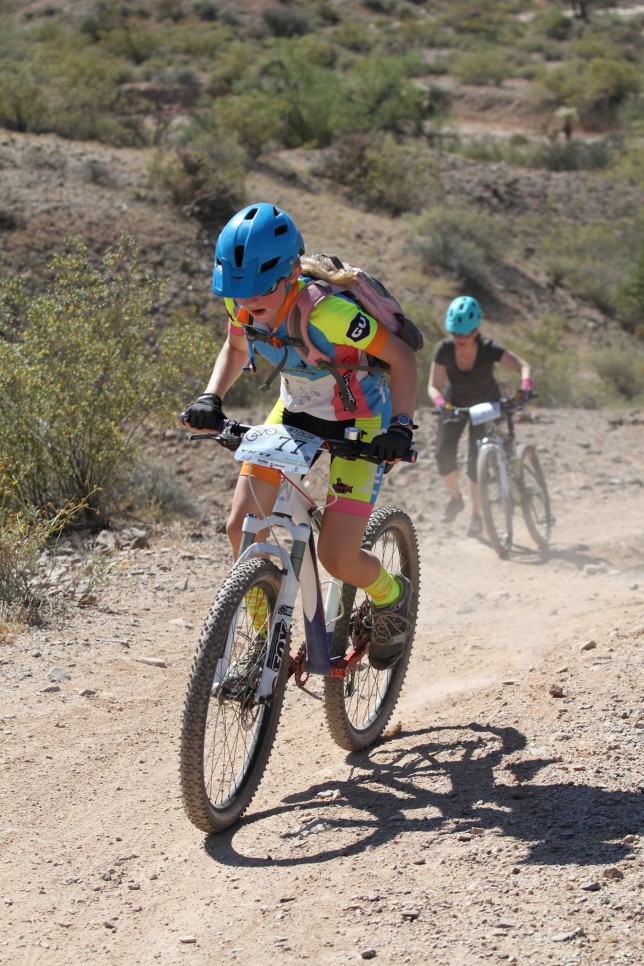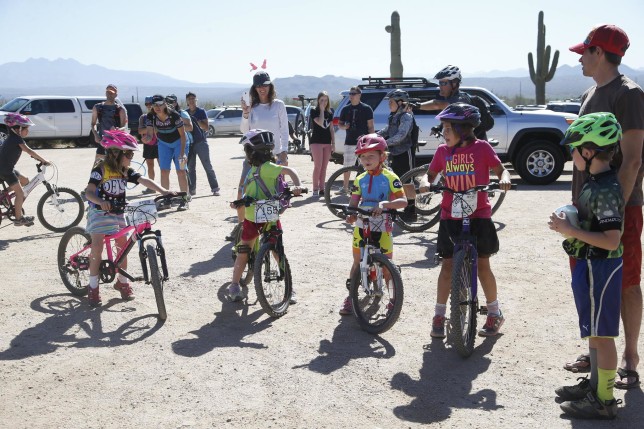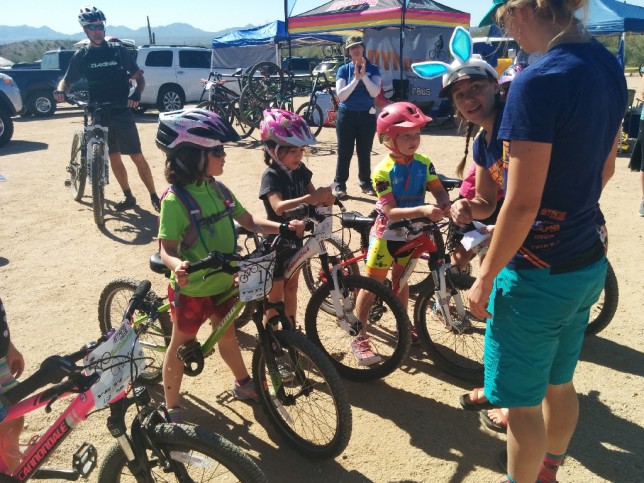 she said her gear was too high to start, and down-shifted to make her move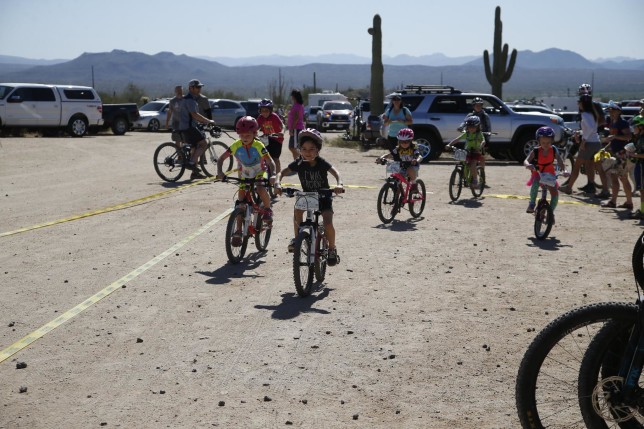 all true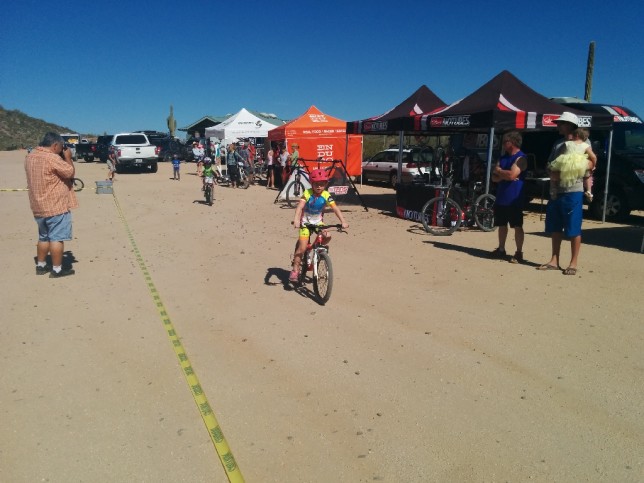 This happened so fast i missed it! 35 min for 2 laps of the Sport Loop.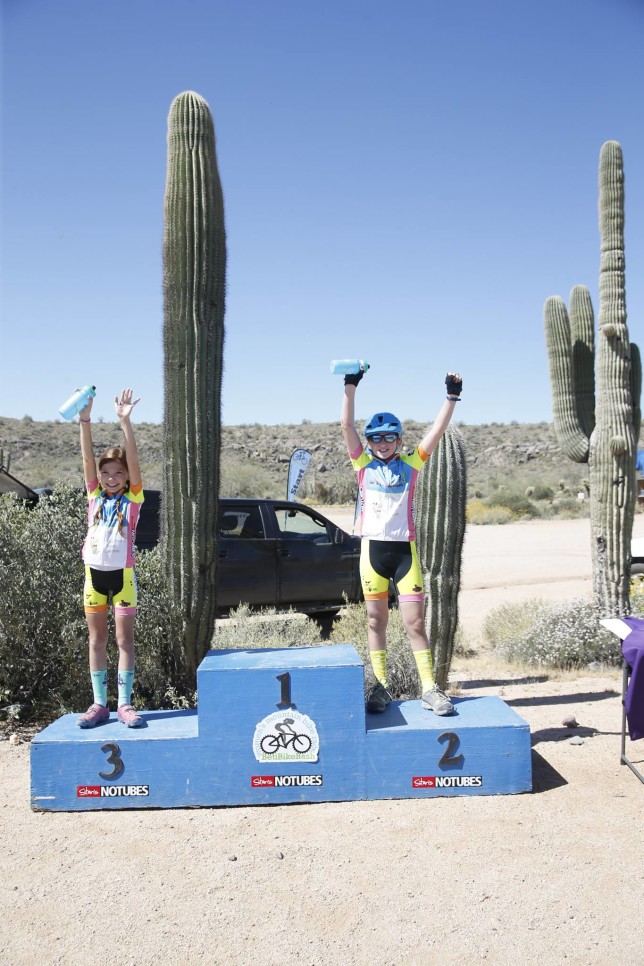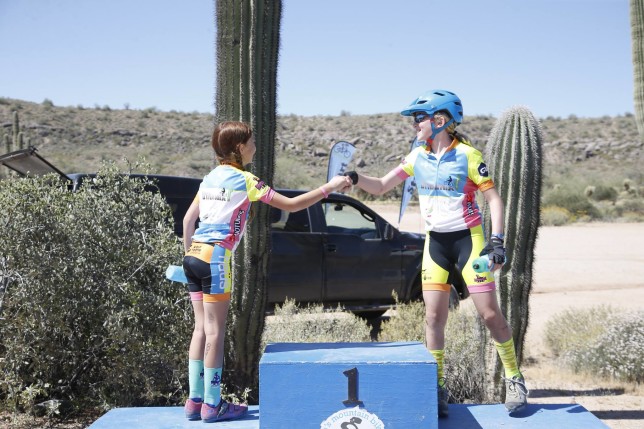 if we didn't know the Clarks, we'd judge this differently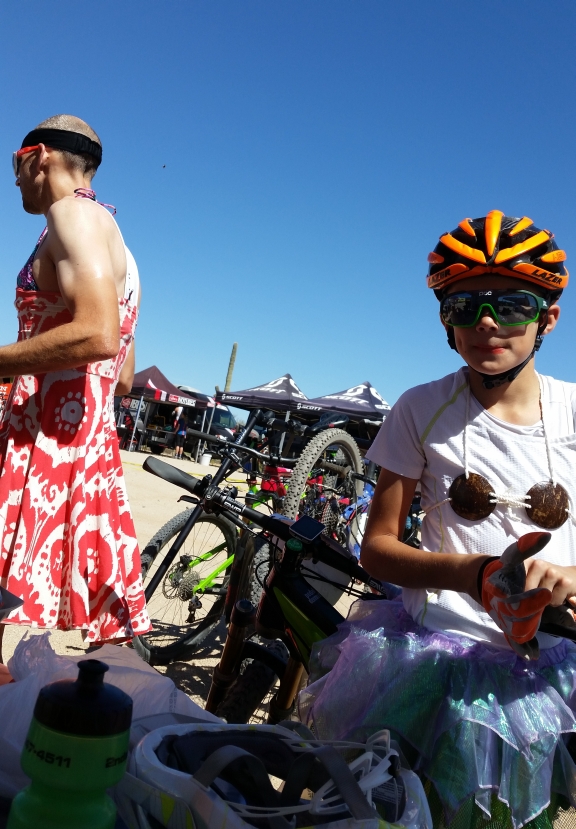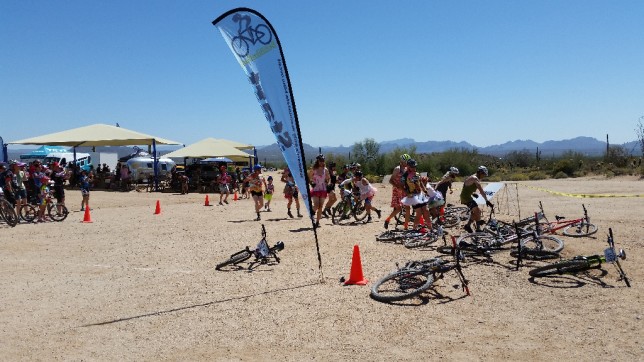 that helmet is just hideous with that dress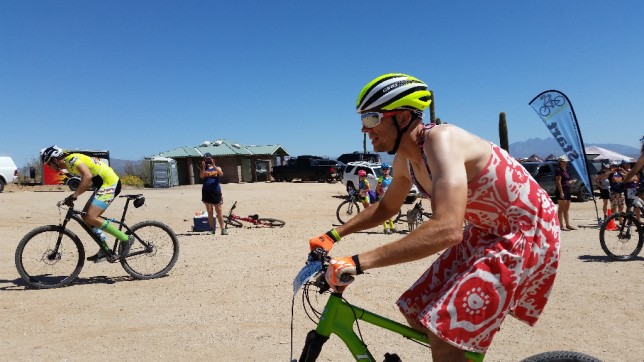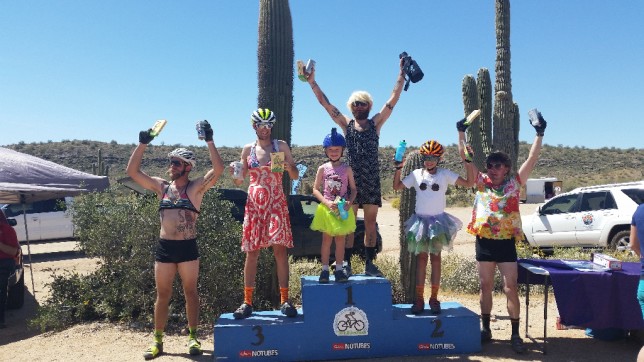 G spent the rest of Sunday demoing a $6000 Yeti, and getting each and every upgrade on it. Gonna be an expensive Xmas, but hard to turn away from that truthiness .
We got Alana another stock shitty kids bike, for about 30x less. As much as I tried to avoid stopping over in 24ville, she's outriding her 20inch but is just too small for G's bike. I will give them whatever gear they need  to progress, its just harder to believe Hurricane Genevieve rode her 20″ for another 6 months.  Other than bigger wheels and qr skewers, i feel like i downgraded the brakes, drivetrain, weight, and even tires at only 1.8 inch wide. Explaining 3x front rings to a 7yo highlights its utter stupidity. G is among the first riders who will never experience a rotary phone and a front derailleur.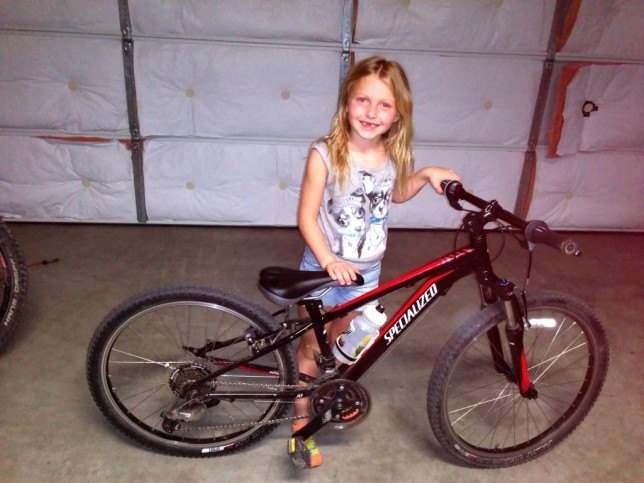 The Goodluck Goodbye Tour continued!!!  We had so much fun in Sedona, we agreed I had to show Byron the goods at Gold Canyon. So much riding alone or riding with kids or not riding at all can make you forget why you bother. I need to make a point to bother, for the immaculate moments riding carbon in beautiful places with my favorite people.
Saguaro Squeeze. Yes he cleaned it, twice.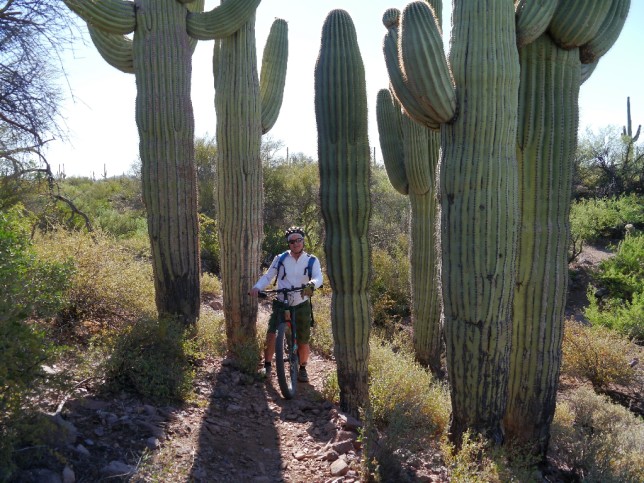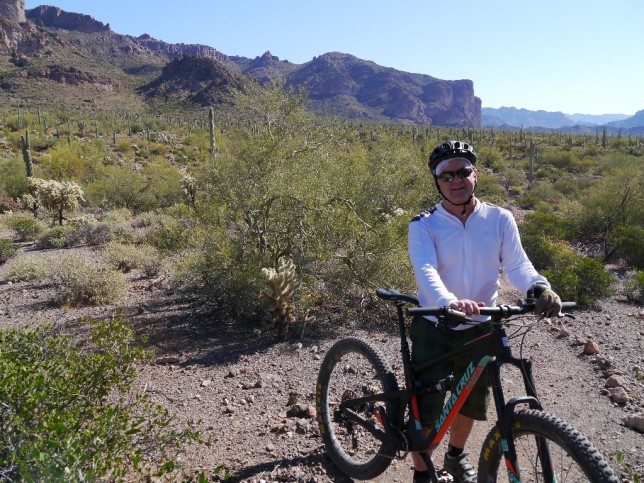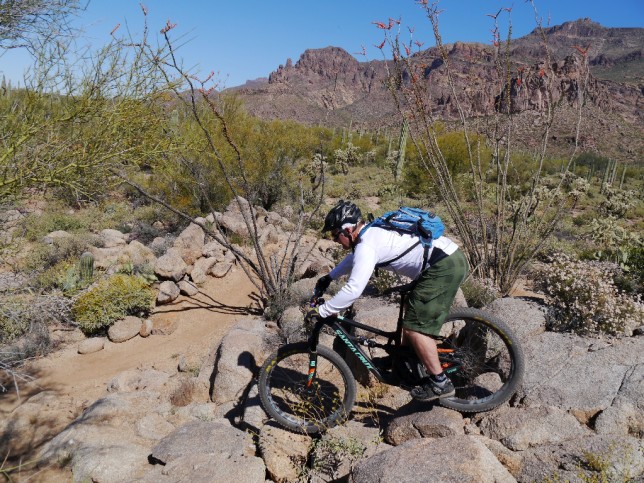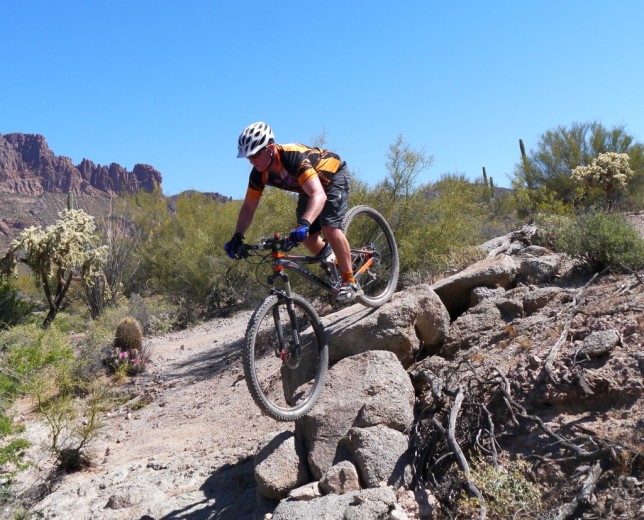 I glowed all day, and most of the next. I added some colors and layout to the new site, couldn't help myself.  It had to be softer and brighter, everywhere I see the sunshine and the sky. Parenting for Gnarness – its not just about them.