Dia and I loaded lightweight survivalist options into the Prius and charged to the high country. The family was out of town, I had an EZUP and a cooler and 5gal of water. It would work itself out.
Saturday James and I rode 418 to Aspen Corner while Dia camped under a tree. Thunder dropped on top of us the last mile. These pics were snapped under scorn and disapproval from my risk-averse friend. They turned out loving, desperate. Dia and I forgot what cool air was in day-after-day of 115+. She stuffered her snout out the car the last 20 miles in from Munds Park, nails dug into the armrest, a cattledog admonition of Global Warming. Flagstaff bakes at 85 degrees and storms are crashing by noon.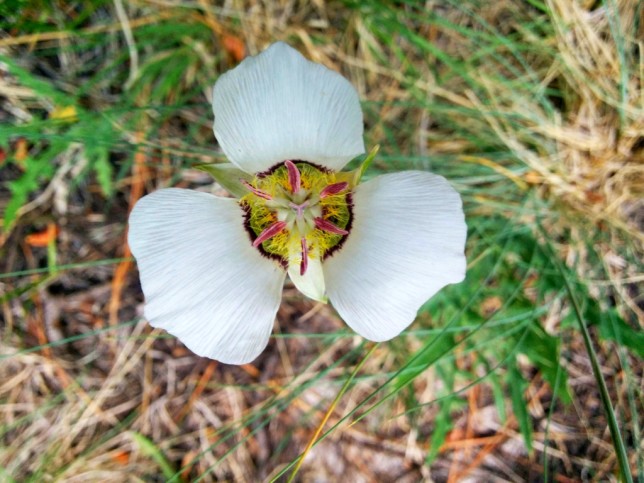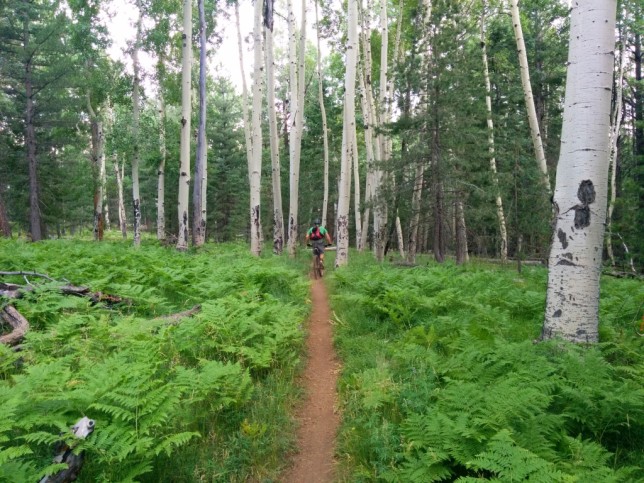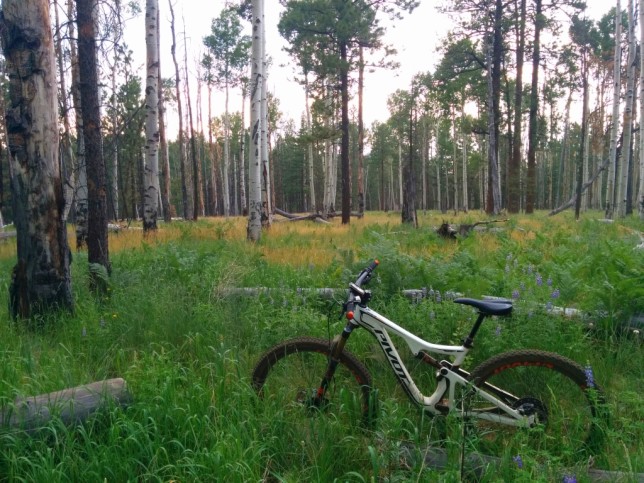 We dropped anchor at the Foulkes residence, and rode the FUTS to Mother Road Brewery. Dia blew up on the multi-use path, we stalked a shady table on the patio and pounced the moment the previous owners moved – more hot-Flagstaff firsts. Lighting hit Observatory Mesa, and the boom made all 15 dogs on the patio instantly pee. James shot up to grab the nearest table indoors. He is so Flagstaff now. Seriously pro move that was a pleasure to be a part of.  The storm unloaded and washed the piddle away while we were seated comfortably drinking in the turmoil, the future of climate change and development.
The orthopedist who did my knee in 03 and my thumb in 04 sat down at the table next to us. I saw him 2 years ago when I had a consult on my tkr. I introduced myself and asked if I could buy him a drink. I didn't want to crash his weekend, but I just wanted to say…
When I came out of anesthesia in 03, he said my knee was the worst he'd ever seen and I was done running. A grenade had blown up in there. This was all very dreamy god-like. A few days later at the follow up, he asked if I remembered that.
Me: The part where you said worst knee you'd ever seen?
Him: yeah, that part. Got it?
So he tells me to have kids, take up a new sport, and sends me on my way. Unable to run 6-weeks post surgery, I pick up a Load Testing contract and make $2k in 1 night. We bought snowboard gear, snowboarded, and on Day 4 displaced my thumb on double-black ice sheets around the lifts that have melted and froze in the sun all day.
The staff at Sunrise gave me a ziplock bag full of ice. This doctor got me on his surgery schedule the next day. I think he felt bad for me 4 months later. There was a brown out while I was getting wheeled in to his efficient privately-owned OR center. He sighed, moved me to another hospital, started his vacation late, and rammed a pin in me. My thumb healed perfectly and stronger, the pin that came out looked like a finishing nail. He saw me 2 years ago and gave me honest advice I needed to hear.
I didn't chit chat, I really just wanted to say thank you so very much.  Suddenly i worried i was creepily intruding.  At Princeton Reunions last month at 2:30am in the basement of Colonial Club I got in a conversation with a 5th yr alum blowing up at Facebook and wondering if it was worth it. What her parents thought. What she wanted. I told her that her parents were proud of her and wanted her to be happy. 20 years from now I will time travel back to this conversation and know that I did it right.
The Doctor introduced me to his family, asked my name etc etc.  It was so nice, and I hope his family was as happy to hear their man complimented as I am to hear it when mine are. The night with James and Staci mostly stayed up there til the end. So much fun! So many other things happen when you don't have children bloating the space.
Morning came early, but I heeded James' weather warning and was rolling by 9. Dogfood to Little Gnarly to mid-mountain.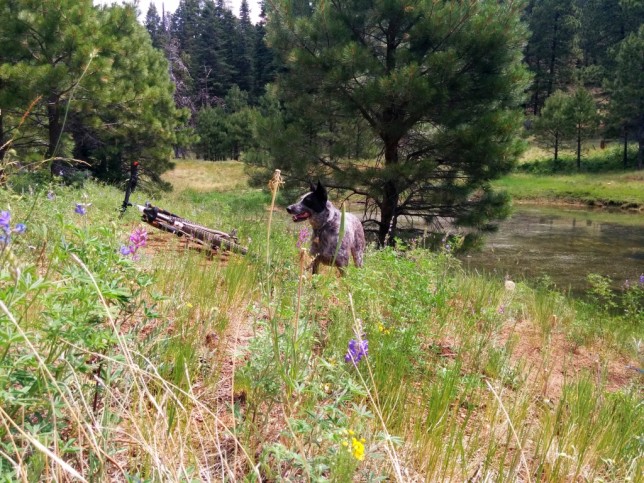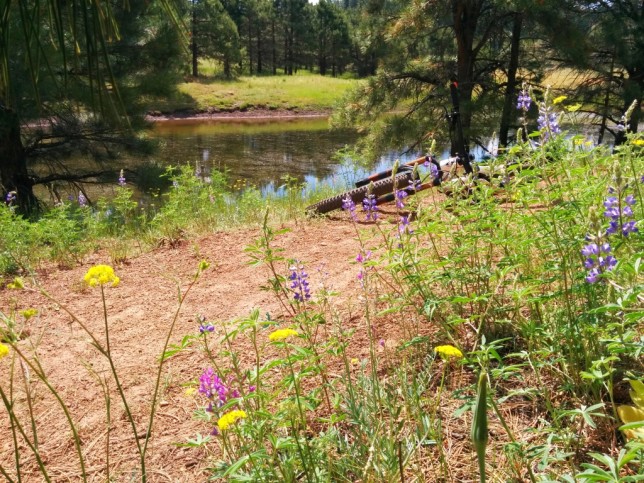 We are LUUUUURRVING Jedi all over again.
All the log rolls in the first half are now flowy ~3ft jumps. The switchbacks and traverse have had rock work done and all but one spot ride well. My best run. Bentley with plus-wheels is dominant in mixed terrain requiring equal climbing and descending ability.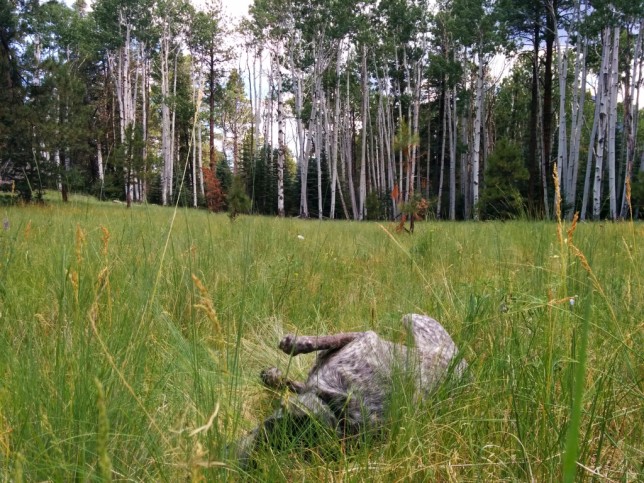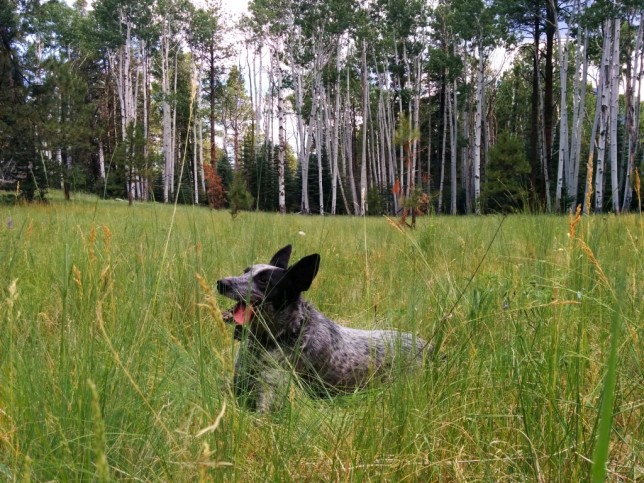 new rock work on Jedi. Took me 4 tries to get this one. Plus wheels plus snappy frame is potent.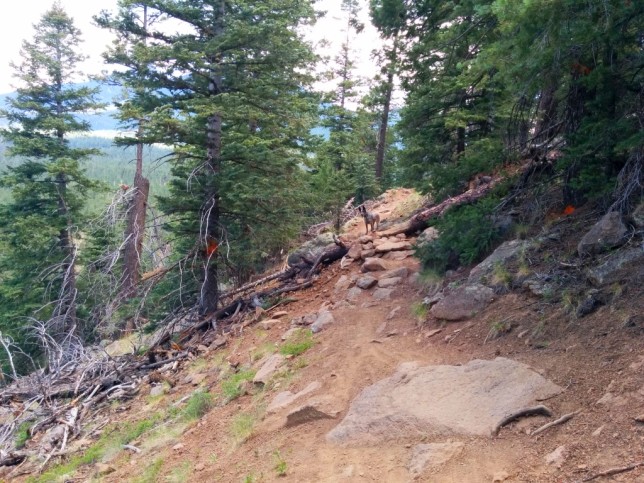 "you suck, I'm bored, can we go? "
— heckling by someone who cant talk or ride.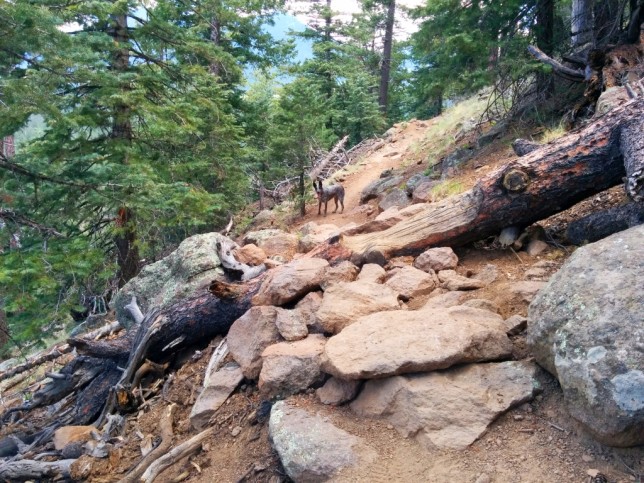 after 11 miles Dia was not moving for my flower pic.