or
'Head like a hole black as your soul'
I struggled with this post's title. And with words in general, numbstruck after the now-annual Birthday Biathalon.
"Will you be my valentine" has not been said for the last 10 years. Sisters having the same birthday used to be precious, then cute, then economical, until scope-creep and mounting pressure for each year to be bigger than the last leaves us excess and gluttony and money-raining reparations. And the cradle will rock. I gave G my present, and thought it was plenty good – a private shooting lesson with a professional soccer player.
All I want for my birthday is them to come snowboarding with me.
∞∞∞∞∞∞∞∞∞∞∞∞∞∞∞∞∞∞∞∞∞∞∞∞∞∞∞∞∞∞∞∞∞∞∞∞∞∞∞∞∞∞
I was intrigued by a new trail at Hawes, that summits the mountain to the south of Radio Tower road and the water-scarred deathtrap that has become Tower Trail. The descent was sure to be like the best parts of Tower Loop.  And the climb…m'eh; I HAB the McDowells every other ride, pushing my bike is like putting on my helmet, nothing in the relatively smooth crushed granite of Hawes could possibly threaten me. I started at Usery Pass road, to meet Byron and Alex afterwards for an easy loop around Pass Mountain. Such a stylish payback for 45 min drive to get there, and it wouldn't make me choose between two of my all-time favorite rides and riding buddies that used to be out my door.
big views at the top of Gidro Pass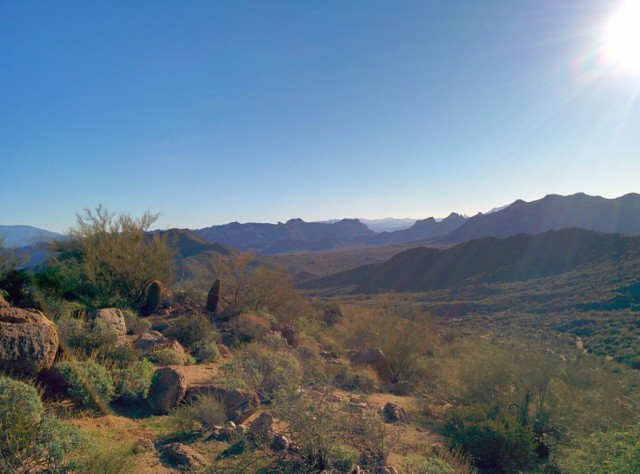 Salt River to the north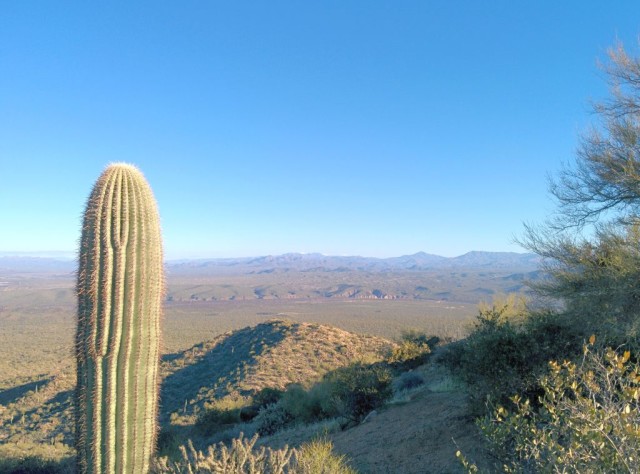 home! and if you look past Red Mountain you can see Tom's Thumb. I got it made so bad.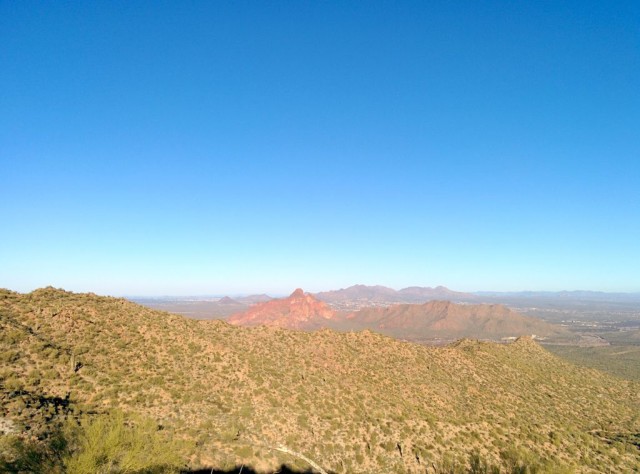 The White Tanks, 50 miles through the sprawl
The trail still feels primitive. The descent on Goat trail was sketchy, the traverse and climb some walking. I luuuuuuuurved the drop back into Las Sendas – long, tight and explicit.
There are other ways to do the Hawes-PassMtn loop, but I no longer live on it so they offer no conveniences. I really liked having my car in the center of the figure 8. Except for a long, long climb from the river to the top of Pass Mtn, where Byron and Alex abused me with their fresh legs.
Between us we have 50 years experience on Pass Mtn, it never gets easier.
Dia and I, checking out the Phx Open from Tequila Tree. Camelback in the center, Somo the red dot to the left, 35 miles south. It was that kind of night.
you've got me captured I'm under your spell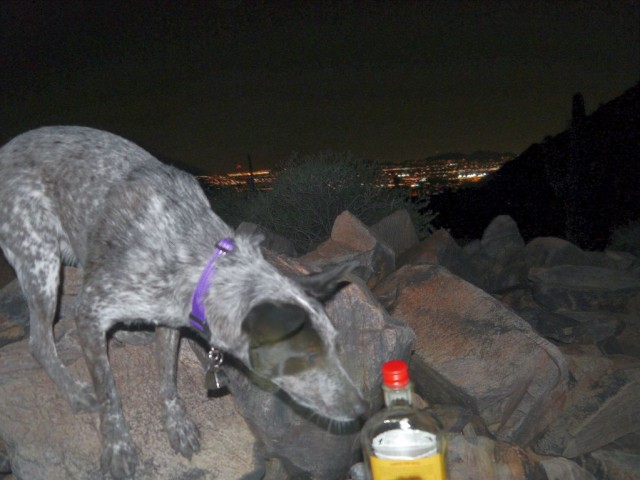 The next day G was a wreck with sickness. She shivered during warmups for her soccer game and sat out as her team's only sub. Coach played her 1 short shift, the insurance goal bounced off her foot as she wobbled and moaned in front of the goal, then she went to bed for the next 3 days.
Alana and I joined the Dynamix Devo crew at Brown's Ranch.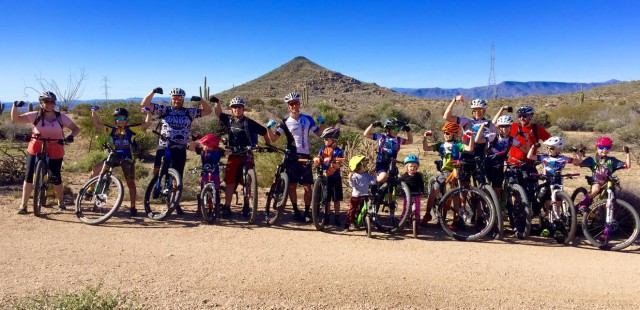 I fooled her, told her 3 miles max, then eased it into 6.5. I've figured Alana out – get her in a good mood, let her think you pay attention to her non-stop chatter. Why can't this be love?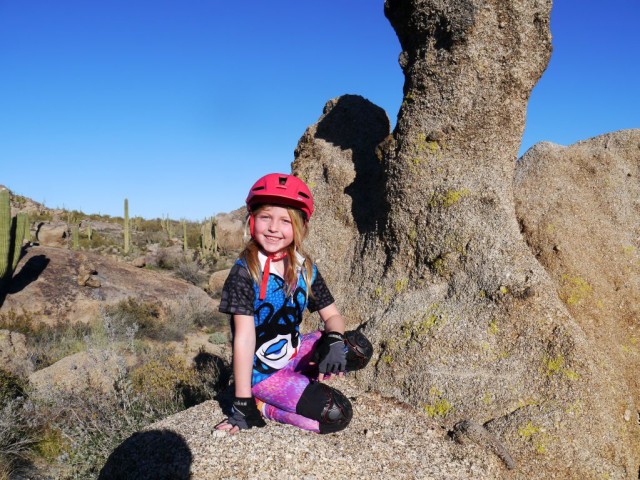 Won'tcha turn your head my way?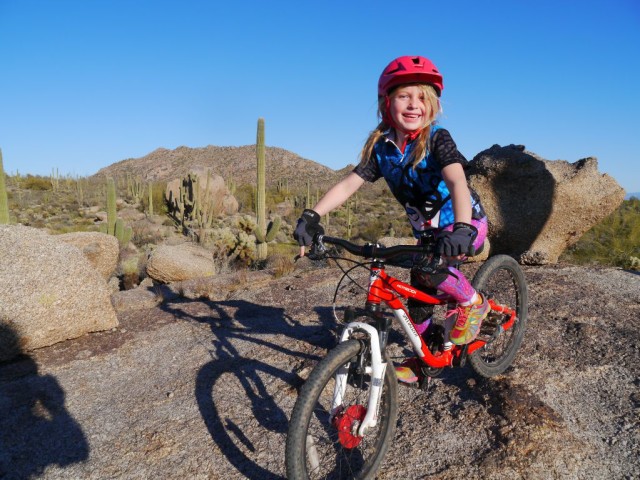 Two live wires. Just watch these ladies go.

and then my friend Carmen traded me this for a 6-pack of Sex Panther! That night we started jump training, taught them to pump and drop off curbs at an office park 90 seconds from our garage. They were vastly improved after 20 reps.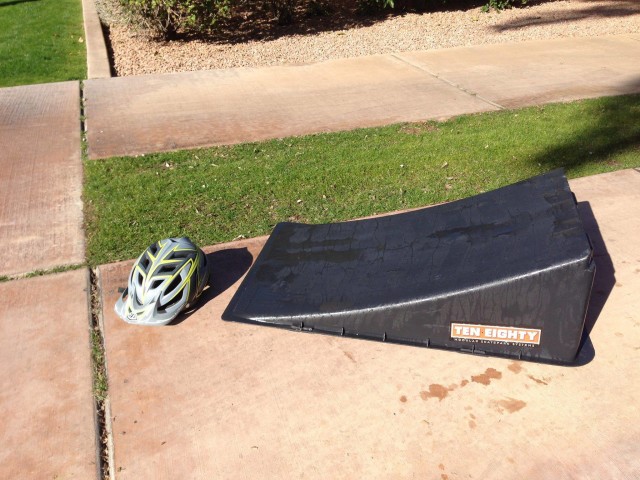 We went for a night ride, with 7 kids, from the parking lot of one of the busiest bars in the city during Friday Happy Hour. It could only be topped for parental negligence if it occurred during the Phx Open Weekend in a lightning storm. One of our friends is a school teacher, that should count for something! Dia and I made it exactly 50 feet through the chaos before I ran over her foot and we called it a night – thankfully no toes were broken and she was running again in 2 days. I got drunk at OHSO. At least everyone had fun! Thanks Scott for the vid.
Sunday we went to Robin's house to socialize some new ACDR puppies.
Meet the Van Heelins, Edie and Alex!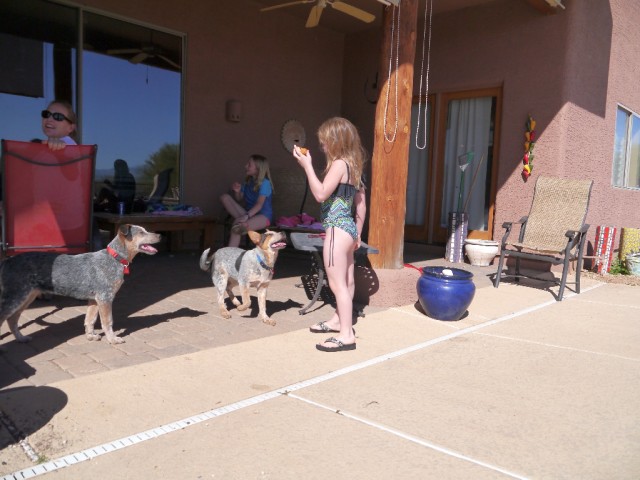 G and I did a sunset ride up Gateway and down Paradise Wash, but first we hit one of my spots for suburban hooliganism.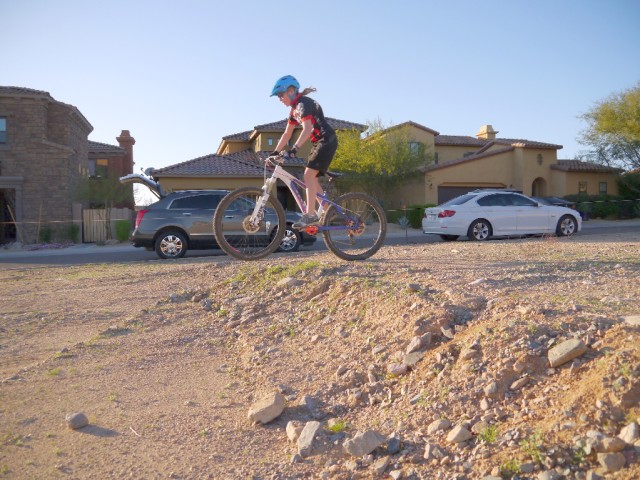 Jump!
(you knew that was coming)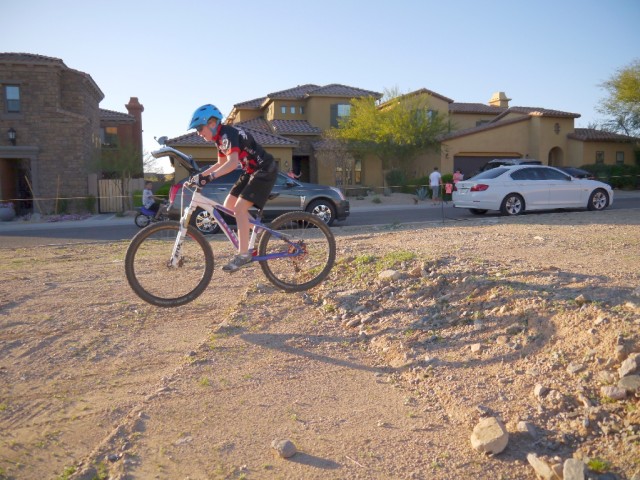 That big glow is not G's face, its the moon. This must be just like living in Paradise.